THE HISTORY OF FIRST NATIONAL CENTER
First National Center is more than a building, it's a way of life.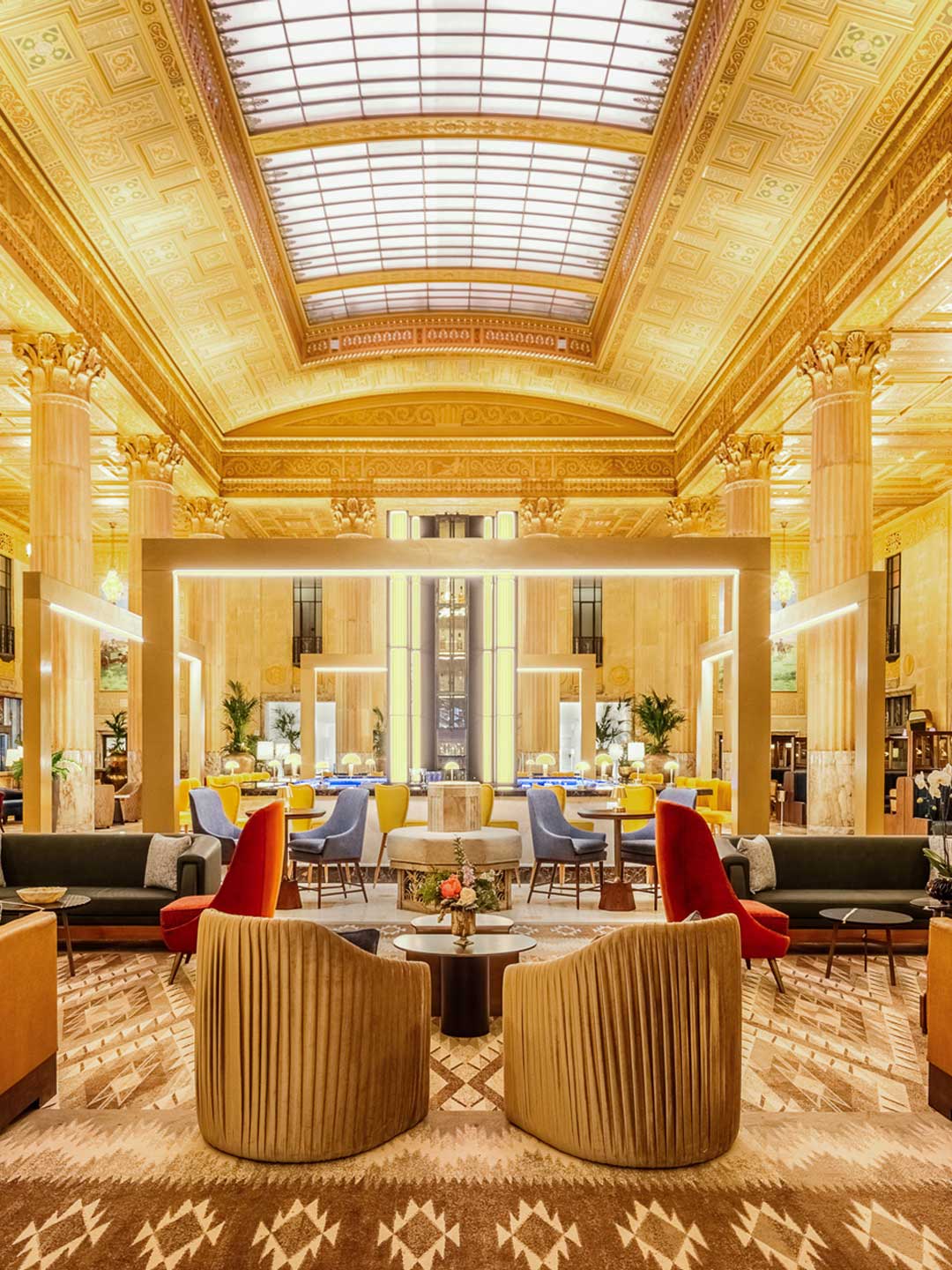 The Beginnings
OUR STORY
First National Center is widely considered one of Oklahoma City's top architectural treasures. But more than a building, it tells the story of the city's tremendous growth and arduous challenges. Oil drilling, the banking industry, and even the history of Oklahoma are all woven into the fabric of First National Center, captured in stone, metal, and murals.
First National Center is both monumental in size and intricate in detail. This landmark is a symbol of Oklahoma's journey and our connections to the region over the years. From the noticeably worn marble floor in front of each teller window to the aluminum aviation beacon that towers 456 feet above the sidewalk, First National Center brings history to life.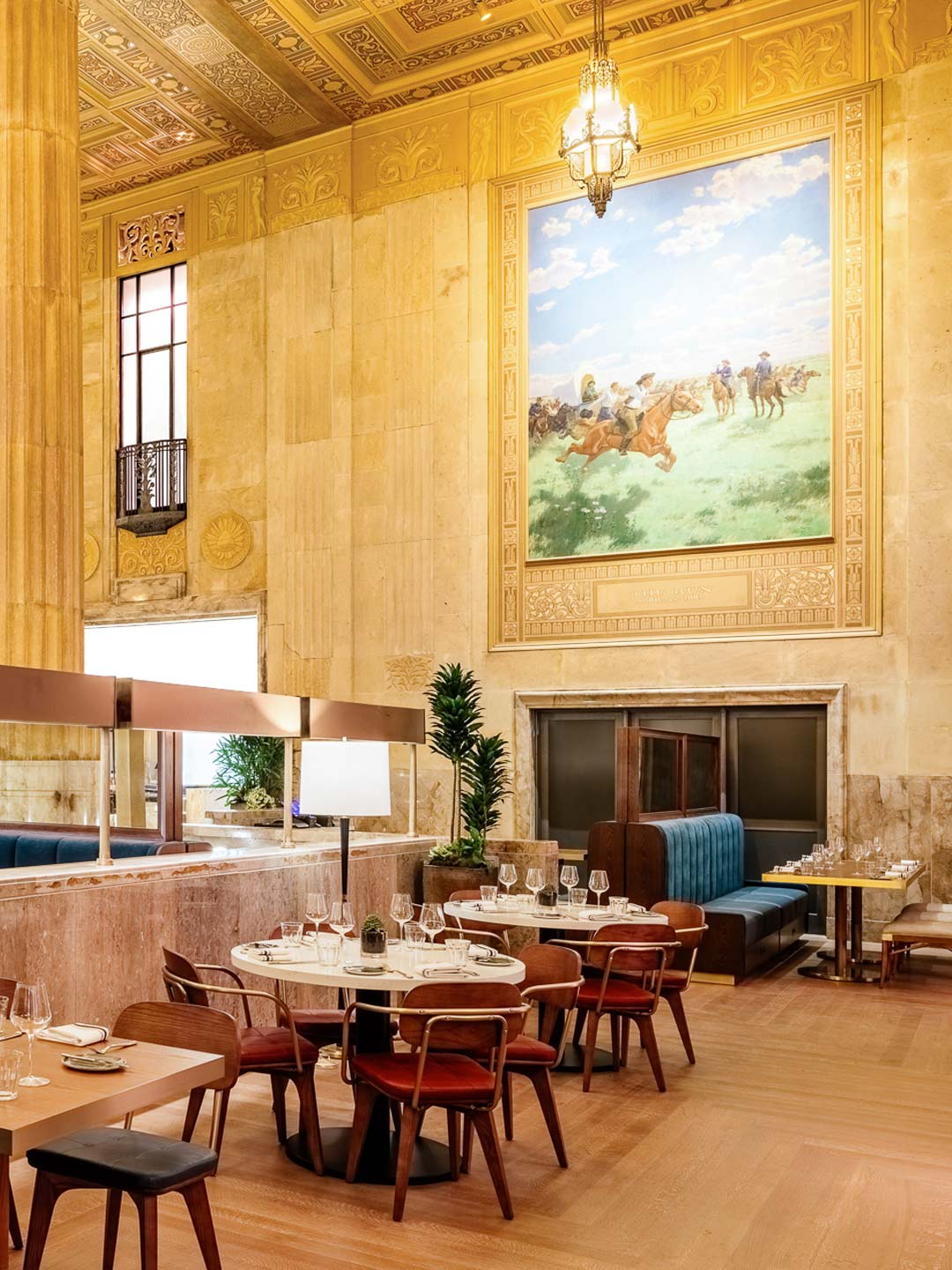 The Murals
HISTORY COMES TO LIFE
Four large murals in the Great Hall from each of its corners. Painted by Edgar Spier Cameron in 1931, each mural scene in the Great Hall of First National Center depicts significant events from Oklahoma's history. So important are these historic murals that the subject matter of each is carried into the guest experience.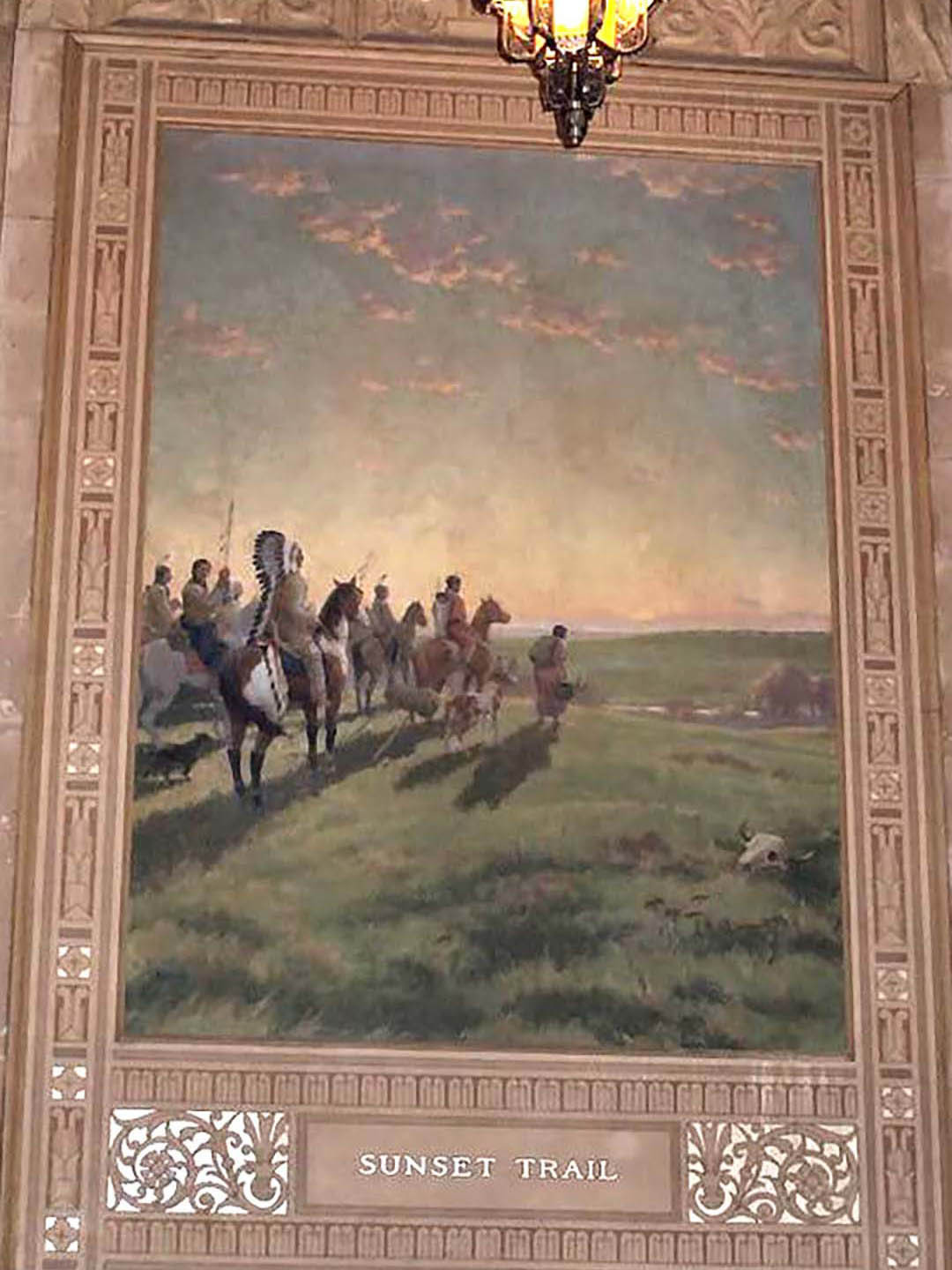 SUNSET TRAIL
Sunset Trail, today known as "The Trail of Tears" was a series of forced removals of the Choctaw, Seminole Creek, Chickasaw and Cherokee tribal members from their native lands in Southeastern U.S. between 1830 and 1850. Their destination was to Indian Territory which is modern day Oklahoma.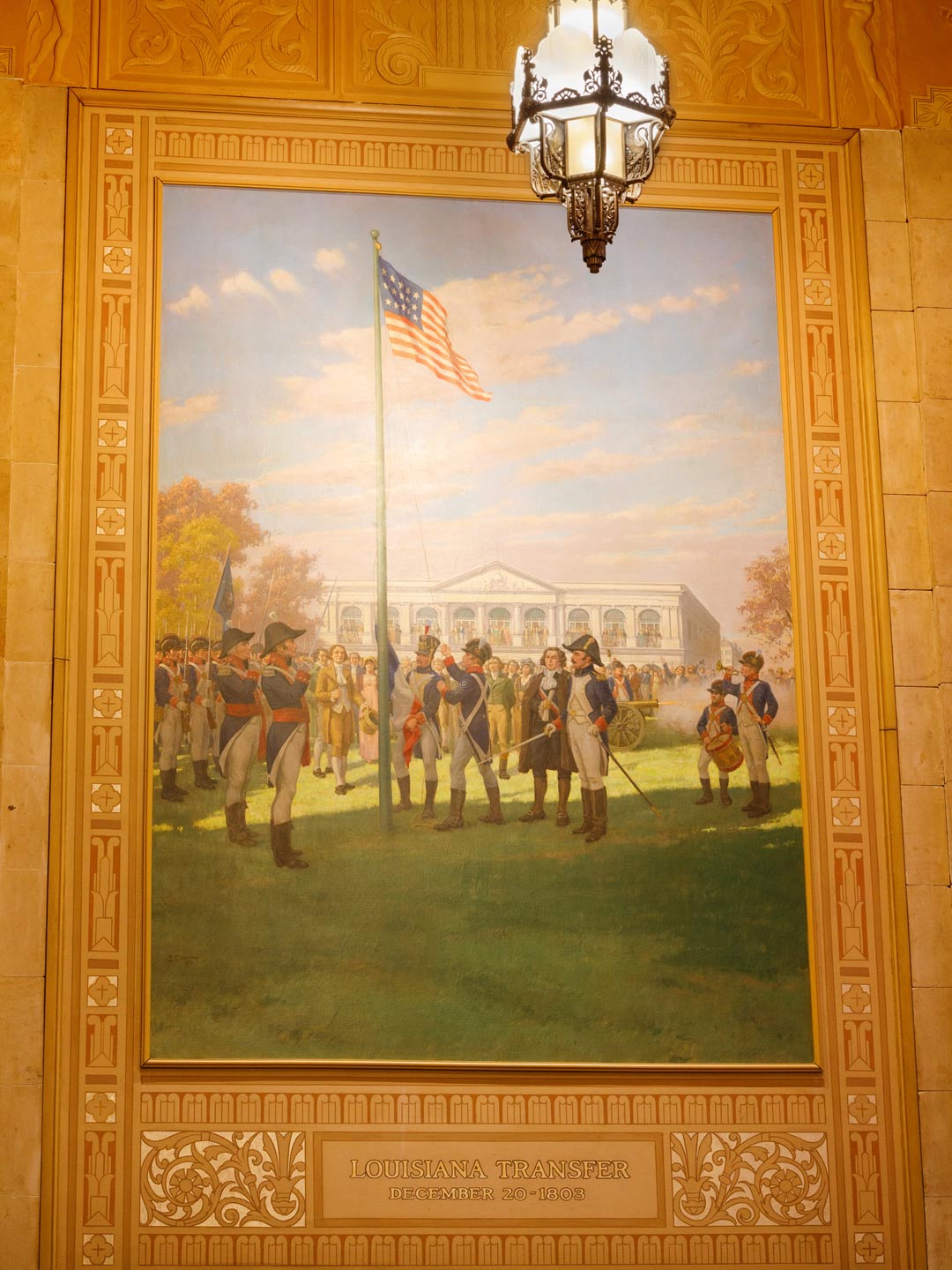 LOUISIANA TRANSFER
In the 1700s the French claimed the Louisiana territory which included Louisiana, Arkansas, Iowa, Missouri, Oklahoma, Kansas, Nebraska, and portions of Minnesota, North Dakota, South Dakota, New Mexico, Texas, Colorado, Wyoming and Montana. In 1803 the United States under Thomas Jefferson purchased the land for $15 million dollars U.S. The Louisiana Purchase was by far the largest territorial gain in U.S. history and paved the way for Oklahoma's statehood.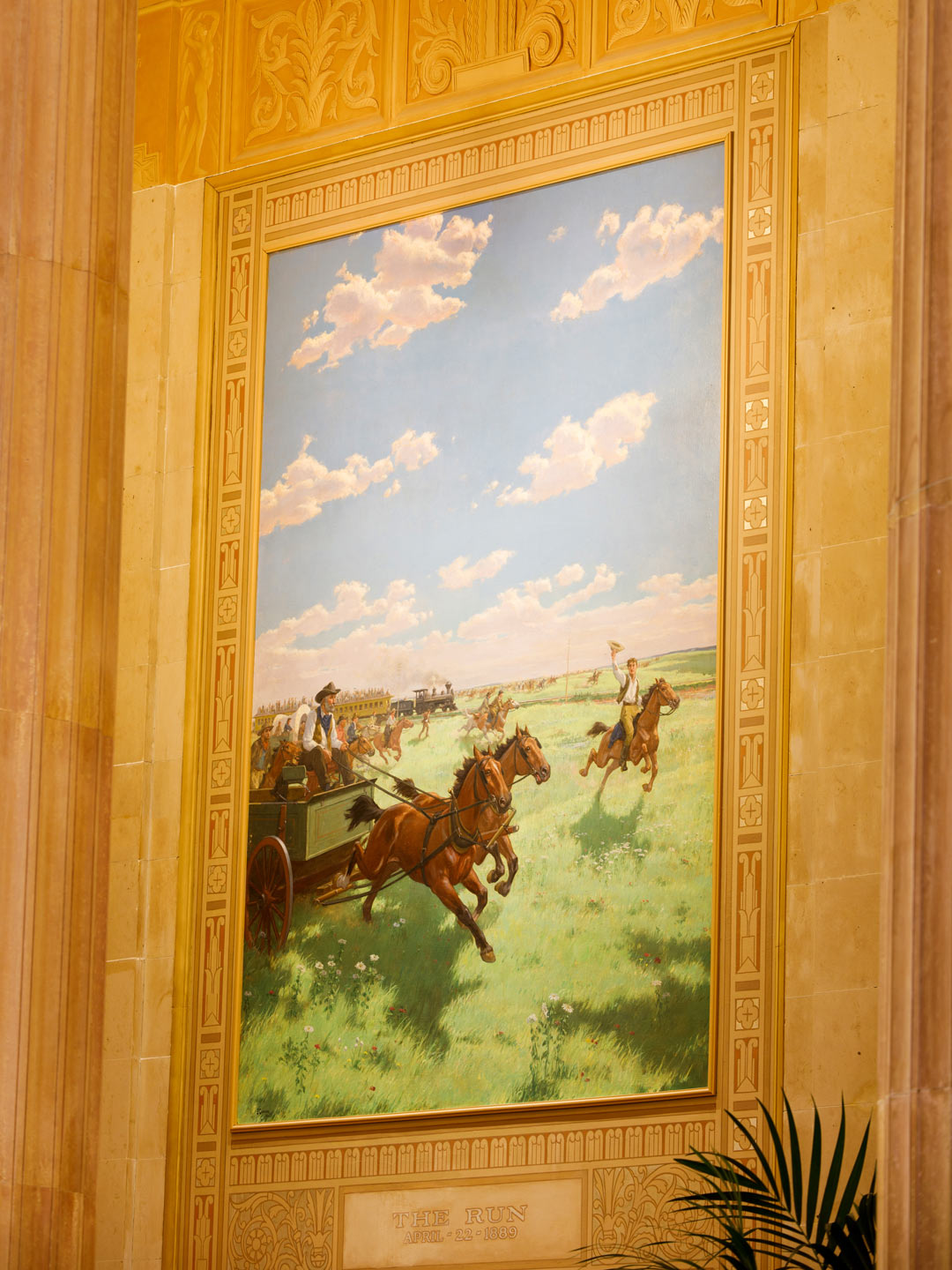 THE RUN
Two murals capture the imagery of "The Run." At high noon on April 22, 1889, an estimated 50,000 people lined up for their piece of the available two million acres of Unassigned Land. Known as the Oklahoma Land Rush of 1889 included all or part of present-day Oklahoma. The Unassigned Lands were the result of the forced removal of Native Americas and the Indian Appropriations Act of 1889. Provided a settler lived on the land and improved it, the settler could then receive the title to the land.
A number of people who participated in the run entered the unoccupied land early and hid there until the legal time of entry to lay quick claim to some of the most choice homesteads. These people came to be identified as "Sooners."